News — New products
Posted by Irene Gut on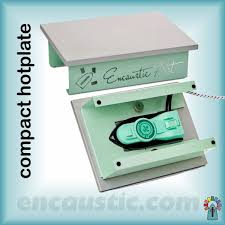 Here it is! The new Encaustic Art Hotplate :-)   So many possibilities open up with this ingenious Hotplate! Once fit together and heated up you can let your creative juices flow! You can work directly on the surface with a card or other lightweight board or use the heated platform as a palette for melting and mixing your colours when painting with a brush. It is suitable for all direct surface work and as an excellent mixing palette and for flat bottomed metal tin palettes – good base surface contact of tins is essential. Please have a look at...
Posted by Bethany Handfield on
We are happy to announce the introduction of several new encaustic art supplies. Fantasy Wax Set: Bright and fun colors for your dramatic paintings. Landscape Wax Set: A more naturalistic selection of paints. A5 Color painting cards - one color - 24 sheets each. in Red, Copper, Silver or Gold Limited amounts of each
Posted by Bethany Handfield on
Have you ever heard someone say "I Could Do That" when they look at your art? Here is a great video from PBS that examines that statement. We will soon be announcing several new wax sets and some other goodies to the product line. Watch this space for details!