News — Linda Robertson
Posted by Bethany Handfield on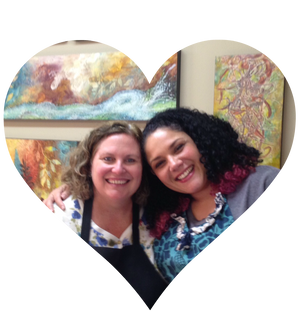 Embracing Encaustic: Wax Transfers with Linda Robertson In my final post about my trip to Portland we are back in Linda's studio. I was lucky to have taken classes from Linda before, both in person and online, and she is a pleasure to learn from. If it is in person, everything you need is there in her studio and if it is online she is just an email away for questions. Linda describes the class, "Transferring images and drawings onto wax gives a crisp magical look or a beautifully rustic effect depending on a few simple choices. I'll also show...
Posted by Bethany Handfield on
Part 1 of a 3 part series I was so excited to take a surprise trip to Portland in September! You know what that means – good times with my friend and mentor Linda Robertson and lots of fun with encaustic. Linda Roberson is an accomplished artist, author and teacher who has been working with encaustic for many years. She is renown for her fundamental book "Embracing Encaustic" and for being a champion of encaustic art and other artists working in the medium. She is a multiple award winner, shown across North America, curated exhibitions and has paintings in numerous...
Posted by Bethany Handfield on
My lovely friend & mentor Linda Robertson's new ebook "Embracing Encaustic" is now available online and I am in it!!!So excited and grateful. It is amazing company to be keeping.This new edition is in two parts. I am in part one. Part two will be coming out in a few months. Both are awesome and chock full of information, techniques and artist spotlights. Linda's teaching style is easily accessible and very friendly.Thank you for including me Linda Robertson <3 http://www.amazon.ca/Embracing-Encaustic-Learning-Paint-Beeswax-ebook/dp/B00T6OPFMY/ref=sr_1_2?ie=UTF8&qid=1423267960&sr=8-2&keywords=Embracing+Encaustic UPDATE: In my excitement yesterday about Linda Robertson Arts launching her book and me being in it, I forgot to...